Feeling inspired to express yourself through unique body modifications?
Don't wait! Click here to book your session with Vesper at OokySpooky now.
---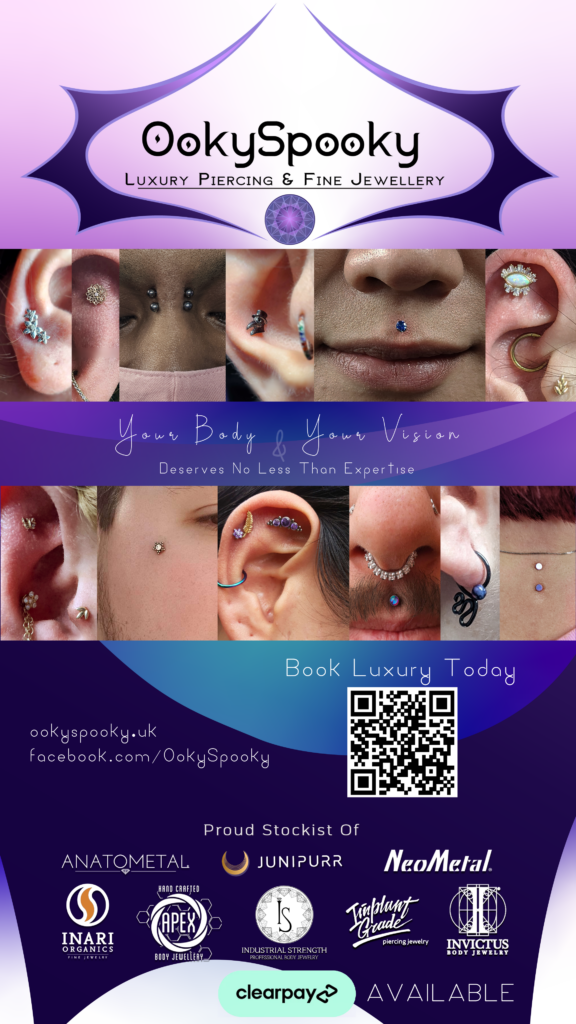 Hello, and thank you for joining us at OokySpooky! We appreciate your curiosity and we're delighted that you've scanned our QR code. This indicates to us that you're someone who's interested in individual expression and possibly considering a piercing or body modification. Let us introduce ourselves more fully and provide some background information.
At OokySpooky, we firmly believe that body modifications are more than just adornments. They are a form of self-expression and a way for individuals to reclaim their bodies. With the utmost trust and respect, we facilitate this personal journey.
At the core of our practice is Vesper, an expert who infuses his work with knowledge and passion, backed by a comprehensive background in microbiology and funeral services from esteemed institutions. Vesper's credentials go beyond the typical 4 to 6-day piercing courses, as he has completed a year-long apprenticeship and has years of hands-on experience in the field.
Vesper's approach to piercing is distinct, utilizing blade needles and disposable insertion tapers from Stiletto Piercing, specially engineered for the piercing industry. This method causes less trauma to the surrounding tissue and allows for the application of bevel theory for higher precision.
Our commitment to your safety is unwavering. All of our sterilization products and equipment are of medical grade, and we're one of the few area studios with both a high-capacity vacuum/steam autoclave and an Enbio fast-cycle autoclave. This ensures everything we use is medically sterile.
We also exclusively use internally threaded or threadless ASTM-F136 implant-grade titanium, niobium, and solid 14ct gold jewellery from top-notch brands. This commitment to quality extends to every aspect of our practice, ensuring that your piercings not only look beautiful but are also of the highest standard.
Our services extend to all areas of body piercing, including genital/intimate piercings, and microdermal implants, as well as scarification and branding. For Vesper, this is more than a job—it's his passion. His goal is to help each and every client express themselves and bring their vision for their body to life.
Beyond just providing superior technique and design, Vesper upholds exceptional professionalism and ensures he offers a competitive price given his abundant qualifications. We're proud to have all the necessary registrations, insurance, and certifications with the local authority to practice our craft.
Once again, thank you for joining us at OokySpooky. We hope that you've found the information helpful and insightful. Don't forget, you can Book Now and take the first step towards a unique expression of self. We can't wait to help you on your journey.