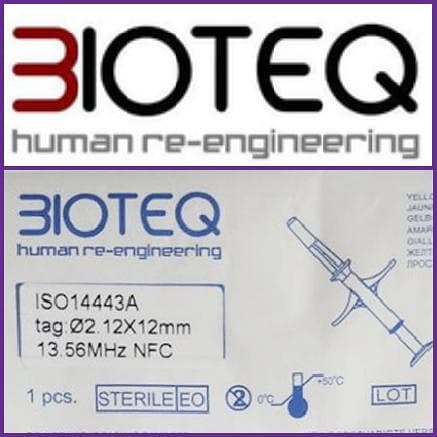 Vesper will be offering programmable RFID and NFC implants from Bioteq pending further training.
The implants are chemically and biologically inert and have been tested in many millions of mammalian insertions plus an increasing number of human situations. Bioteq has worked with the Medicines and Healthcare Products Regulatory Agency to confirm the legal status of their implants.
The implants are pre-loaded inside a sterile injection assembly, which is then used to inject the implant into the hand. It is recommended that it is injected between the thumb and index finger.
If you have an NFC implant you can store a small amount of text based data, for example your name, address and contact information. You can potentially clone your work ID card if the system is compatible with the Bioteq implant range. Contactless payments are not currently possible, but the technology is compatible to make this work. The main issue currently is being allowed to integrate the system with credit providers such as Visa. This is something that is being currently worked on by Bioteq in the UK.
For more information, please email via the website or message the OokySpooky Facebook page: https://www.facebook.com/OokySpooky/